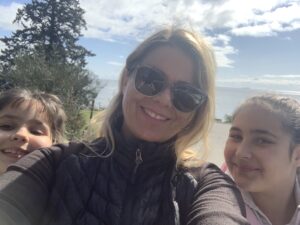 So I've been writing these blogs for West Coast Interventions to spread awareness about what we do and thought now is a good a time as ever that I get vulnerable and share a bit of my story. I may now be a professional Digital Marketing Specialist and openly share my recovery while helping others, but I can tell you it took a lot of time and work to get where I am today.  This life I have created for myself did not come easy nor did I do it alone.
Where it all Began
I took my first sip of alcohol at the tender age of 13 and drank myself into a complete blackout.  Little did I know at the time that it would lead to 26 years of drinking myself into blackouts and very dark places. The thing about my story is I always managed to get by and what I now know was a huge problem, was always written off as "The college girl partying away her 20s".
I graduated University with a Business degree in the top 10% of my class.  I had a very successful career in sales, got married, bought a beautiful townhouse, had two beautiful daughters who are now 9 and 11 and my whole world.  What I am saying is I was not an alcoholic/addict that anyone ever told to get help or to stop drinking because I had what Society measured as a successful life.
My 20s were hard partying years while bartending and going to university.  My early 30s I was a weekend warrior where I couldn't wait til the weekend to what I would call "paint the town red and get completely wrecked" – what a way to live eh? I had my daughters at 32 and 35 and those years my drinking escalated daily. 
How It Got Worse
Alcoholism is a progressive disease that only ever gets worse, never better.  I drank so hard I blacked out to forget everything in my life.  I don't remember a lot of my girls young years and that is heartbreaking.  I would tell my husband at the time I was going out for "happy hour" which I believe for normal people ends around 5pm, but I would stumble into my house somewhere around 3am.  I was not being a good wife or mother.  I had so much shame and guilt, no self-esteem or self worth and these feelings perpetuated my drinking making the guilt and shame worse.  The cycle didn't stop until I put the shovel down and stopped digging.
My Bottom
The last 18 months of my drinking I drank every single day, and I was so sick, beyond dehydrated and constantly hungover.  Drinking alone and anytime of the day was a regular occurrence for me. I struggled to take care of my young daughters, maintain my career and keep a house in order.  My marriage counsellor suggested I check out an AA meeting.  I went to one meeting and another women there shared her story which was very similar to mine. 
How My Life Changed
My life did not get easier, it actually got harder.  The first two years of my sobriety I can honestly say I "white knuckled" it and that feeling is a painful feeling I don't wish on anyone.  I had a lot of messes to clean up as well as going through a tumultuous divorce. I did all the things suggested that other recovering addicts had done to stay clean and sober and it worked one day at a time.
Truly I am a miracle and one of the fortunate ones that did find my way my first attempt.  I am so grateful that there are treatment centres and Addiction Specialists like Craig that can help so many others today.  I love being part of this process and helping the next struggling addict keeps me sober!  The most beautiful part of this whole process is I can now look in the mirror and love the person looking back at me.  I don't live in shame and regret anymore.  Every day is a new day for me to grow a little more. I am grateful for the opportunity to give back and help others find their way.